August 9th is National Book Lovers Day, and to celebrate, I've rounded up 5 decorating ideas that allow you to showcase your love of reading: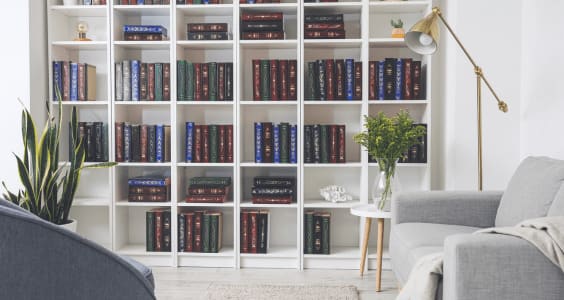 1) Create a dedicated reading nook. All you need is a comfy place to sit, a cozy blanket, a lamp, and a side table for your cup of tea.
2) Organize your books by color. If you have shelves and shelves full of books, you have the opportunity to make a big design impact by arranging your books by color. (And nothing feels more magical than a rainbow bookshelf.)
3) Light a library-scented candle. A quick search on Etsy will show you plenty of options for candles with names like Old Books, Oxford Library, and Lost in The Stacks.
4) Upcycle old books for craft projects. The possibilities are endless! You could cut book letters to display on a shelf or mantle, make a pretty wreath out of book pages, or use watercolors to paint on top of a page for a unique piece of artwork.
5) Build a book tower. Do you have so many books they all won't fit on your shelves? Stack 'em up' up! A tower of books can be a whimsical decorative element, a makeshift pedestal on which to place a vase of flowers, or just a stilly thing to do with your kids.
Are you a book lover? Have you incorporated your love of books into your home decor? Reply to this email and tell me all about it!