We're right on the cusp of fall, and you know what that means: beautiful red and gold leaves falling from the trees, swirling through the air and clogging up your gutters. But have no fear, because the folks at BobVila.com have shared the best ways to clean your gutters and keep them in tip-top shape.

Why is it important to clean your gutters?
"Gutters serve the vital purpose of collecting the rain that falls on the roof and diverting it through downspouts away from the home's foundation. Without gutters, water that falls near the foundation could leak through windows, or seep into a basement or crawlspace."If your gutters and downspouts get clogged with leaves and other debris, water will spill over the top and collect on the ground near the foundation of your home, which could lead to damage and leaks. Also, when temperatures drop, the water sitting in your gutters could freeze and become so heavy that the gutters detach from the roof.

When should you clean your gutters?
In autumn, after all the leaves have fallen.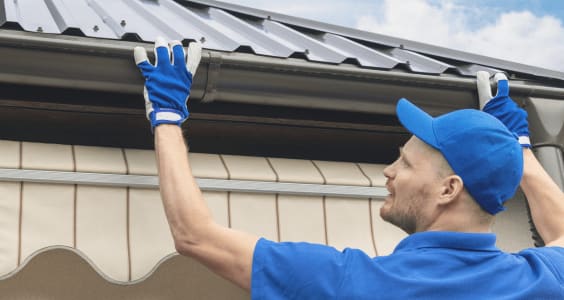 1. Hire a gutter-cleaning service: If your home is more than one story in height, your best (and safest) option is to leave it to the professionals. A gutter-cleaning service will have the tools and experience necessary get the job done safely.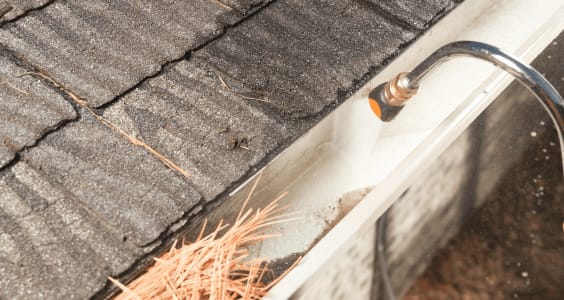 2. Garden hose (no ladder required): If you want to avoid using a ladder (and if your home is only one story tall), you can clean your gutter from the ground by attaching your garden hose to a water-fed tube, such as the GutterMaster Telescopic Water Fed Pole.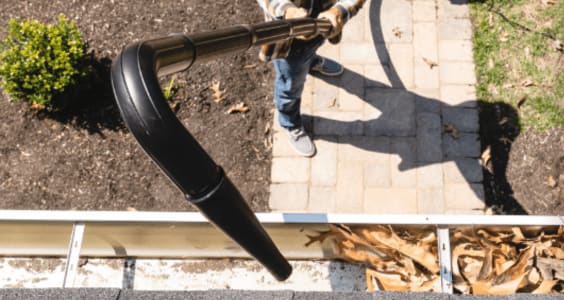 3. Shop Vac (no ladder required): Another ladder-free option is to use your wet/dry vacuum along with some gutter-cleaning attachments. Check out the Craftsman Gutter Cleaning Kit for Shop Vacuums.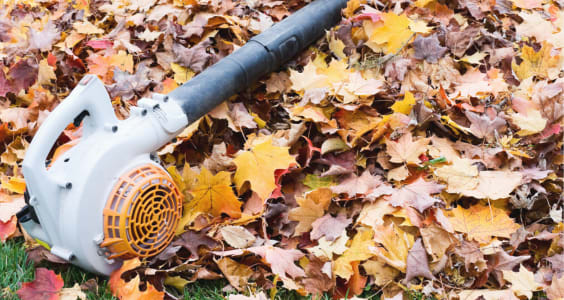 4. Leaf Blower: If you're comfortable climbing a ladder (and have the proper type—a sturdy extension ladder with stabilizer arms), you can use your leaf blower to blast debris out of your gutters. Before you start, be sure to block the downspout with a rag so you don't blow leaves into it.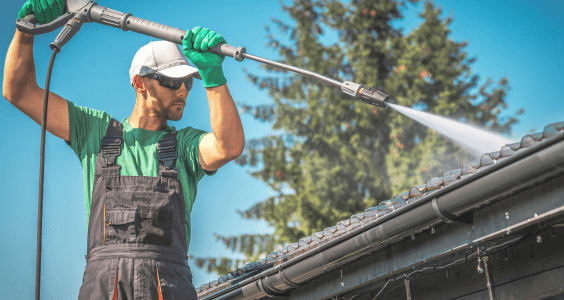 5. Power Washer: If debris is really packed in there, a power washer will do the trick. This is a great way to clean out clogged downspouts!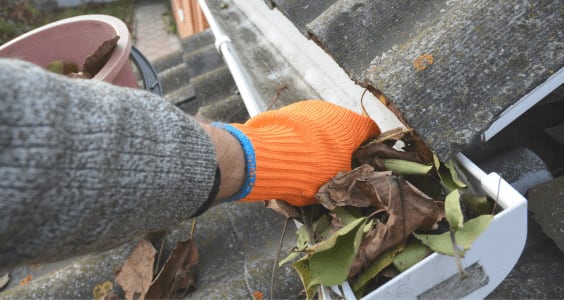 6. By Hand: Prefer things the old fashioned way? You can clean your gutters by hand, as long as you have some heavy duty work gloves, a bucket, and a gutter scoop or garden trowel. If your downspout is clogged, try loosening things up with a plumbers snake.
Remember: Your safety if the top priority, so if you don't feel comfortable on a ladder, stick with option #1 and hire a professional!